The 2018 WTA Finals in Singapore kicks off with round robin action featuring the White Group, consisting of Caroline Wozniacki, Petra Kvitova, Elina Svitolina and Karolina Pliskova. It's surely going to be an intriguing day with both match-ups featuring two contrasting gamestyles. Read on for previews of Kvitova-Svitolina and Wozniacki-Pliskova…
WTA Finals Singapore, White Group's Round Robin
1. [4] Petra Kvitova vs [6] Elina Svitolina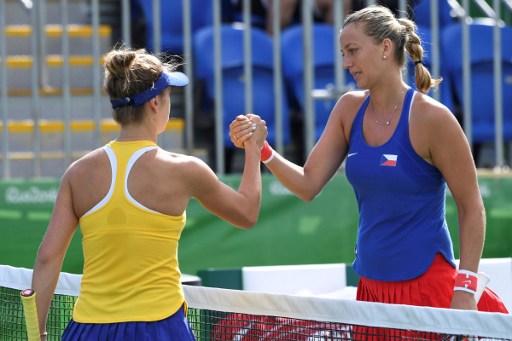 Kvitova has had a very successful season on the tour, winning five singles title including a Mandatory one in Madrid, but wasn't able to bring her best tennis to the Grand Slams where she crashed out in the first week of all four majors. Kvitova had a very bruising schedule during the US hard court swing and it seemed to show in Asia, where she lost in the first rounds of both Wuhan and Beijing. Two weeks of rest would have done Kvitova good as she will aim to end the year on a high note.
Svitolina has had a very similar season to Kvitova in which she managed to win three WTA titles, but was still unable to cross the barrier of a major quarterfinal, coming closest at the Australian Open back in January. Majority of Svitolina's points have come from the first half of the season as a weight loss scheme has seemingly affected her game physically and mentally. Svitolina was only able to make one semifinal after the French Open, and has looked very vulnerable and passive on court of late.
Head to head: Kvitova leads the head to head 7-1(!), and Svitolina's only win came in their first meeting back in 2014. All of their eight encounters have taken place on hard courts.
Thoughts: With Kvitova's comments about the faster speed of the courts, and the dire head to head record, it seems very unlikely that Svitolina stands a chance in this one. However, you never know with Kvitova as she tends to not be in her best form in the beginning stages of a tournament. However, even if we see an error-laden performance from the Czech, I doubt Svitolina has the confidence or the stability to continue to fend off attacks from Kvitova. This could be a messy yet intriguing match to start off the Finals…
Final Prediction: Petra Kvitova d. Elina Svitolina in three sets
2. [2] Caroline Wozniacki vs [7] Karolina Pliskova
Other than Naomi Osaka, Wozniacki is probably the only other player that is coming into Singapore having had a good result in their previous tournament. The Dane managed to secure her third title of the year in a depleted field in Beijing over Latvian Anastasija Sevastova. Prior to this, Wozniacki had been struggling with injuries during the US hard court swing, so the timing in which she has been able to find back her confidence is pretty immaculate – she has a bucket load of points to defend in Singapore as the defending champion.
Pliskova comes into the Finals off a really bad loss to Vera Zvonareva in Moscow, but the hard work she had done the previous week by making the final in Tianjin was eventually the key factor to her qualification to Singapore. Pliskova has been one of the more consistent players throughout the entire year out of these eight players, but hasn't really showed her best tennis at all that was on show two years back in 2016 where she made the US Open final. Pliskova also has quite a lot of points to defend having reached the semifinals here in 2017.
Head to head: Wozniacki leads the head to head 6-3, but this will be their first meeting in 2018. The Wozniacki-Pliskova rivalry was one the best match-ups of last year where they were tied 3-3 in their 2017 encounters. Their last meeting was back in Singapore, where Wozniacki prevailed 7-6(9) 6-3 in one of the best first sets of last year's season.
Thoughts: Excited for this one! I always feel that their contrasting styles are able to bring out their best in each other, but Pliskova has toned down her aggressive gamestyle this season. I would like to see her taking more risks and coming forward more often, because if she doesn't do so I don't see her being able to compete with Wozniacki in long baseline rallies. Have to go with the Dane…
Final Prediction: Caroline Wozniacki d. Karolina Pliskova in two sets
Thanks for reading! Check out my Singapore predictions here or at the top of the page!