I forgot the Rogers Cup draw would be released so soon… so I'll skip the draw preview and immediately dive into the first round match-ups. Montreal will be the tournament where most of the players start off their US hard court campaign, and with all the top ten players participating in the Premier 5 tournament, no wonder the depth of the draw is so fantastic. Read on for first round previews of Konta-Ostapenko, Maria-Cornet and Pliskova-Siniakova…
Montreal, First Round
1. Johanna Konta (No.48) vs [11] Jelena Ostapenko (No.11) 
Konta has begun to find some of her best tennis since the grass court swing but having failed to defend her semifinalist points at Wimbledon, she is now No.48 in the rankings, her lowest since January 2016! The good news for the Brit is that she has barely any points to defend for the rest of the season (only won two matches from August to October last year) and if she can continue playing the way she did against this week, a return to the world's elite could be coming soon. Konta reached the quarterfinals of San Jose with demolition wins over Serena Williams and Sofia Kenin, but fell to Elise Mertens in straight sets after having been in control of the first set for the most of the time. Nonetheless disappointing, but Konta will definitely take some positives from this week.
Ostapenko has had a very topsy-turvy season which has included the good, the bad and really really bad. One of those matches in the last category was a peak-error performance against Kateryna Kozlova in the French Open as the defending champion, but she rebounded decently during the grass court swing with quarterfinals in Eastbourne and semifinals in Wimbledon. The losses though during those two tournaments were very disappointing though with error-ladened displays to Agnieszka Radwanska and Angelique Kerber. With Ostapenko, it's always going to be a mixed bag and you don't know what you're going to get from her at any event.
Thoughts: It's tough to predict end results for both of these two players as they have provided an assortment of results this season. I think Montreal is a decent-paced court and Ostapenko will have more time to adjust to the conditions having not played in San Jose. Konta doesn't have much variety and hits with medium power, which is what Ostapenko likes so she can hit freely. If she plays like she did in Wimbledon, I think Ostapenko can win this in straight sets.
Final Prediction: Jelena Ostapenko d. Johanna Konta in three sets
2. Tatjana Maria (No.82) vs Alize Cornet (No.34)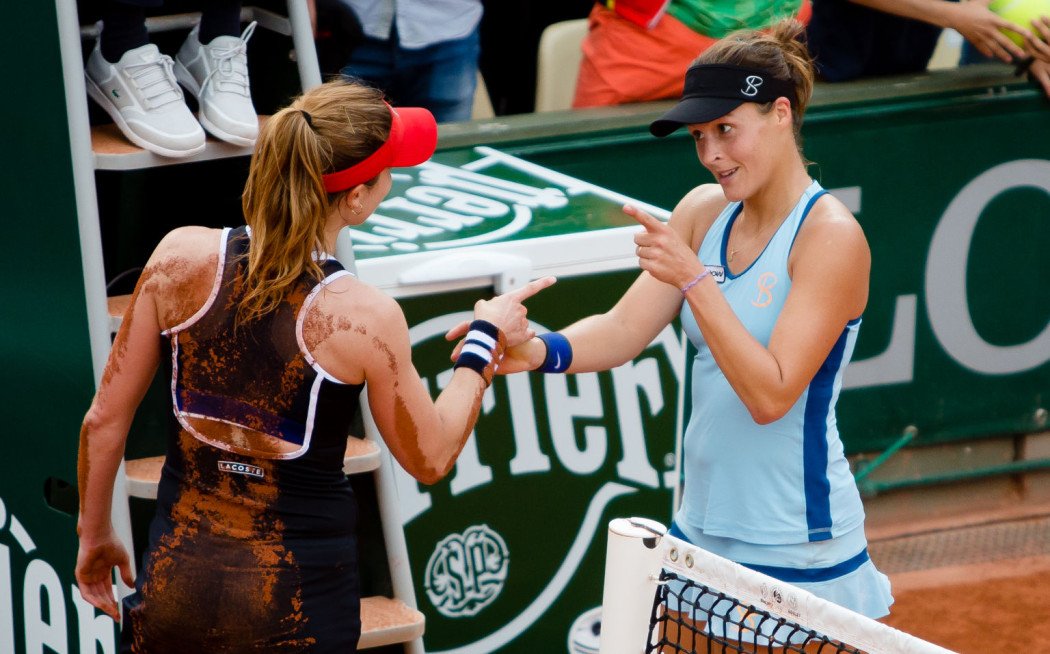 Maria's spot in the draw was originally taken by Serena Williams, but after the American withdrew from the tournament due to personal reasons, we are rewarded with an extremely mouthwatering clash – likely not for tennis reasons, but due to the potential drama that could unfold. The last time these two met on court, unreal scenes occurred and this time round, perhaps it will deliver tennis-wise as well as both players have been playing good tennis of late.
Mums on the WTA tour have been one of the headlines of the season and one part of it was contributed by Maria after she won her first WTA title in Mallorca. She proved that the win wasn't a fluke by backing up a win against Elina Svitolina at Wimbledon. While her slice-and-dice game is well suited for the grass, it's not proving so on the hard courts – Maria is 1-11 on hard courts in 2018.
Cornet has had a tough time this year with the drug test issues, having went 15-16 till Wimbledon, whilst only winning back-to-back matches on hard courts two times. However, a return to her favourite clay ignited a flame in Alize as she cruised to the Gstaad title – her first since January 2016. Now back into the world's top 35, hopefully the Frenchwoman can translate that success onto the hard courts.
Thoughts: I think this could be a messy affair as Cornet hasn't been serving that well of late, yet Maria doesn't have many weapons to blast Cornet off the court. I think Cornet will not be too affected by Maria's slices and come through in two tight sets. Here for the handshake!
Final Prediction: Alize Cornet d. Tatjana Maria in two sets
3. [9] Karolina Pliskova (No.9) vs Katerina Siniakova (No.51)
It has been a very disappointing year for Karolina as she has not been able to reach the heights she achieved in 2016 and 2017, but she has surprisingly still been able to stay at No.8 in the Race to Singapore – it goes to show how Pliskova's fight has been so evident in almost all of her matches this season. The newly married Czech's back to her favourite hard courts though and this is the time where she's always able to gain points – last year she managed to reach the quarterfinals of all of her three US hard court events.
Her first rounder in Montreal won't be easy though as she faces Fed Cup teammate Siniakova. The younger Czech of the two has excelled in doubles this year, winning the French Open and Wimbledon doubles titles with partner Krejcikova. However, she hasn't been able to bring the consistency to her singles game – her last four losses on the tour have been to a lower ranked player. Siniakova has all the shots an elite player needs, however temperament and inconsistency has always derailed her to progress further up the rankings.
Thoughts: I think this could be a close match if Siniakova produces her best tennis as she has variety and power to exploit Pliskova's movement, however I think the calmer Czech's experience will come through in the end with the more solid serve and general game. Fun fact: Pliskova is 11-2 in three-set matches this year.
Final Prediction: Karolina Pliskova d. Katerina Siniakova in three sets
Thanks for reading! Check out my Montreal predictions here or at the top of the page!