Even after the demise of the seeds, we have still been rewarded with an amazing final on paper and it shows how good women's tennis is at the moment. In a repeat of the 2016 Wimbledon final, Serena Williams will take on Angelique Kerber for the Venus Rosewater Dish. Serena's gunning for her 24th Slam title; Kerber 3rd. Who will win? Continue reading for the preview…
Wimbledon, Final
[11] Angelique Kerber (No.11) vs [25] Serena Williams (No.181)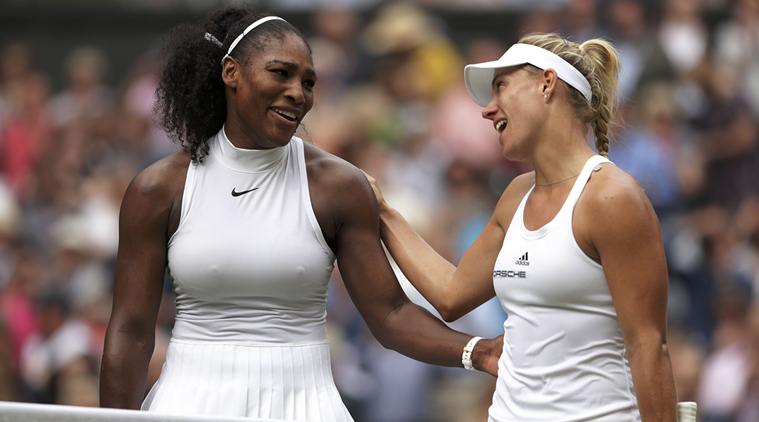 Kerber's route to this stage
R1: d. Vera Zvonareva, 7-5 6-3
R2: d. Claire Liu, 3-6 6-2 6-4
R3: d. [18] Naomi Osaka, 6-2 6-4
R4: d. Belinda Bencic 6-3, 7-6(5)
QF: d. [14] Daria Kasatkina, 6-3 7-5
SF: d. [12] Jelena Ostapenko, 6-3 6-3
I find it hilarious that Angie started her tournament against a mum, then had to play against young talents and teenagers, and will eventually end her Wimbledon against another mum! Kerber wasn't coming into Wimbledon in her best form and started the tournament really scrapilly and nervy, especially against Claire Liu where she was on the ropes in that third set. The German though has rounded into form since then and has produced her brand of tennis to dismantle her next opponents. Her third round match against Naomi Osaka was a peak performance (23 winners to just 5 unforced errors), and while she has been less flashy in the next rounds, her experience and more solid play helped her come through the 1997-ers in Bencic, Kasatkina and Ostapenko.
Ostapenko was totally the one dictating play in the semifinal and while she produced some brilliant shots at times, it was the large patches of unforced errors that cost her the win. At the same time, Kerber served brilliantly and was able to take advantage of horrible service games from the Latvian at 3-3 and 5-3 to take the first set. The second set seemed like one way traffic in the second set as Kerber quickly raced to a 5-1 lead; however Ostapenko fought valiantly as she played her best tennis of the match to win three games on the bounce again. Once again though, it was the Kerber serve that came to her rescue as she served out the match successfully on her second try. Kerber's stats on serve were great – she has never been known for her serve but it was this shot that helped her through her service games, serving at 77% first serves in, hitting four aces and winning 73% of second serve points.
Serena's route to this stage
R1: d. Arantxa Rus, 7-5 6-3
R2: d. Viktoriya Tomova, 6-1 6-4
R3: d. Kristina Mladenovic, 7-5 7-6(2)
R4: d. Evgeniya Rodina, 6-2 6-2
QF: d. Camila Giorgi, 3-6 6-3 6-4
SF: d. [13] Julia Goerges, 6-2 6-4
This has definitely been a really simple route for Serena enroute to her 30th Slam final but it doesn't mean Serena hasn't worked hard to this stage, especially against Kiki Mladenovic and Camila Giorgi in the third and quarterfinal rounds respectively. Serena was pushed so hard against Giorgi, who held her own against the 23-time Grand Slam champion, but her experience and more solid serve shown through in a fantastic baseline battle.
Serena took it up a notch in an almost perfect display of aggressive tennis against Goerges in the semifinal. The 6-2 6-4 scoreline TOTALLY doesn't show much much Goerges put into this match; in fact she hit more winners than Serena: 20 winners to Serena's 16. Ultimately, this was all about Serena as she won 87% of first serve points and converted four out of five break points. Serena always managed to step it up when Goerges had a lead in a game, and while she was unable to serve it out on her first try, she capitalised on Goerges' nerves in the next game to reach her first Grand Slam final since the 2017 Australian Open.
Head to head: Serena leads the head to head 6-2, with their last two match-ups coming in a Grand Slam final. Kerber claimed her first Grand Slam title at the Australian Open with a three-set victory, while Serena exacted revenge with a thrilling 7-5 6-4 Wimbledon final.
Thoughts: Kerber's brilliant counter-punching up against Serena's power and amazing serve proved to be one of the best match-ups in 2016, thus I'm so excited for this one and I hope it won't be a damp squib. Kerber will have to raise her level from the Kasatkina & Ostapenko matches because passive play will definitely not cut it out against Williams. Another important stat for Kerber is the first serve percentage as she will need to keep it very high to not allow Williams as many opportunities on the return.
Serena's serve has improved by miles since Indian Wells-Miami and on the grass, it's become a huge threat for her opponents once again. The movement is also looking really good and has been sticking to her aggressive game really well. However, Williams hasn't faced such a good defender in her Wimbledon run this year and perhaps will face more resistance from Angie on serve than in her other matches.
While I think Kerber stands a slight chance in this one, she'll have to play a blinder to do so and move the American a lot. Serena has looked really good this fortnight and if the serve's firing, half the battle is already won. I'm going for Serena & 24 in two tight sets…
Final Prediction: Serena Williams d. Angelique Kerber in two sets
Thanks for reading! Check out my Wimbledon predictions here or at the top of the page!