The end of the season is nearing, but there's still a lot more tennis action to follow with three events for next week – Hong Kong, Linz and Tianjin. I'll be breaking down the Tianjin draw in this post, where the Chinese city will host some of the biggest names and in-form players.
Main Draw
Top names' profiles
[1] Caroline Garcia (No.15)
Player overview: Caroline Garcia continues her bid to reach the WTA Finals – she's the only chaser left that has a mathematical chance to overtake Johanna Konta as the No.8 spot in the Race to Singapore leaderboard. What put her in the running for this was because of her Wuhan triumph. The Frenchwoman blasted past the likes of Angelique Kerber and Dominika Cibulkova there, before ousting Ashleigh Barty in a two-hour forty-three minute final. Coming into Beijing with a right thigh injury, Garcia still continued to battle on and is into the semifinals as of writing. There is a chance Garcia may withdraw from Tianjin but if she wants to make it to Singapore, she'll have to try to get some more points here to overtake Konta…
Recent results: Tokyo QF, Wuhan champion, Beijing SF (still in progress)
Draw projections: Can you believe it… the top seed drew wildcard Maria Sharapova in the first round in a must-watch encounter if Garcia does play! Her projected quarterfinal opponent is No.5 seed Yulia Putintseva.
Tianjin win-loss record: First appearance
[2] Petra Kvitova (No.18)
Player overview: Garcia is trying to make it to the Singapore WTA Finals, while Petra Kvitova will be trying to grab a spot in the Zhuhai WTA Elite Trophy. It will be super impressive if Kvitova manages to make it to the year-end tournament – the Czech missed the first six months of the season but is still sitting at No.28 in the live WTA race. Kvitova always does well in Asia and this continues this year, where she is in the Beijing semifinals as of writing where she'll play Garcia.
Recent results: US Open QF, Wuhan 1R, Beijing SF (still in progress)
Draw projections: Generally, a pretty comfortable path all the way to the final for Kvitova! She plays Zhu Lin in round one, then seeded to face Lesia Tsurenko and Donna Vekic in the quarterfinals and semifinals respectively.
Tianjin win-loss record: First appearance
[3] Peng Shuai (No.25)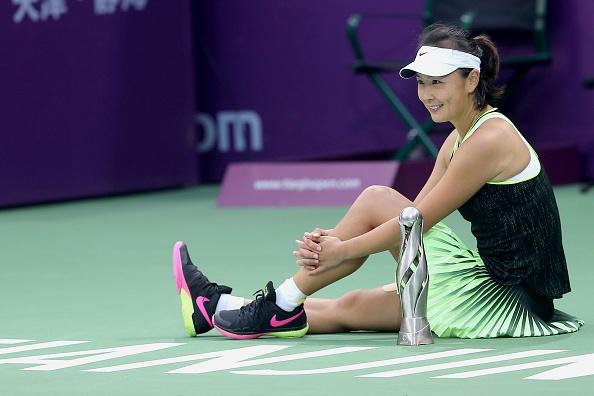 Player overview: Peng Shuai has been playing a lot of tennis this Asian swing – she has been playing for three weeks straight in Guangzhou, Wuhan and Beijing, playing the doubles tournament too in Wuhan and Beijing. It wouldn't be a surprise to see Peng withdraw from Tianjin – the Chinese player has been struggling with a knee injury and she retired in her singles match to Jelena Ostapenko in Beijing (though she is still playing the doubles tournament).
Recent results: Guangzhou 2R, Wuhan 2R, Beijing 3R
Draw projections: Peng kicks off her title defense with a qualifier then a potential 2016 final rematch against Alison Riske.
Tianjin win-loss record: 6-1 (2016 champion, 2014 SF)
[6] Maria Sakkari (No.50)
Player overview: Maria Sakkari hasn't done much all year and has been lingering in the 80~100 range in the rankings but she is in the top 50 now largely because of her run to the Wuhan semifinals. Before Wuhan, Sakkari only had seven top 50 wins in her career but made it 11 at the end of that week courtesy of wins over Putintseva, Caroline Wozniacki, Elena Vesnina and Alize Cornet. She'll hope to bring this form into Tianjin where with good results she can officially end the year in the top 50.
Recent results: US Open 3R, Guangzhou 1R, Wuhan SF
Draw projections: Sakkari kicks off her Tianjin endeavors against wildcard Liu Fangzhou, and seeded to face Donna Vekic in the last 8 stage.
Tianjin win-loss record: First appearance
[8] Alison Riske (No.53)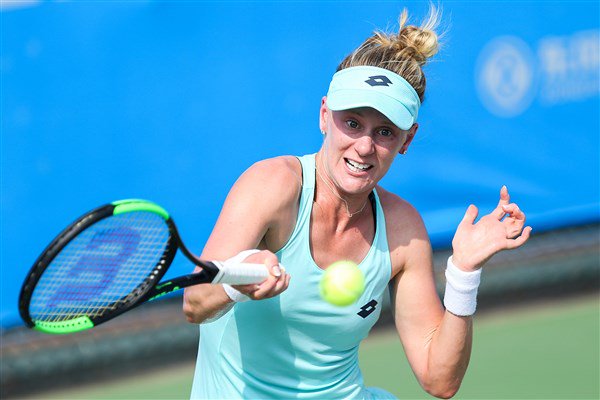 Player overview: Alison Riske always does well in Asia, especially China, where out of her five WTA finals, four of them have come in China! However she hasn't done well here this year where she was kicked out in the first round in all three China tournaments. She'll be coming into Tianjin with a lot of good memories though where she reached the final twice before, including the title in 2014.
Recent results: Guangzhou 1R, Wuhan 1R, Beijing 1R
Draw projections: Alison plays local player Wang Yafan in round one, before a potential repeat of last year's final with Peng.
Tianjin win-loss record: 10-2 (2014 champion, 2016 F)
Maria Sharapova (No.104)
Player overview: Maria Sharapova is back into the top 100 after a run to the third round in Beijing and soon she'll not need any wildcards to enter into tournaments. However she still needed one for Tianjin, where she'll make her first appearance at. Sharapova may be a stranger to this tournament, but she'll definitely not be to China, where she reached the finals in Beijing in 2012 and 2014, including the title in the latter edition. Sharapova has a large fanbase in China too and with a slightly weaker draw here, she could have a chance at the title…
Recent results: Stanford 2R, US Open QF, Beijing 3R
Draw projections: Sharapova has been no stranger to difficult openers in 2017 and it's the same in Tianjin, where she'll face top seeded Garcia as aforementioned above. I don't see any other player able to trouble Sharapova if she does get past round one…
Tianjin win-loss record: First appearance
Please follow my Twitter account here 🙂